Hello everyone,
it has been AGES since I've posted.... but am almost ready for a finish on my Elisabeth Raysor. This was a fun project to stitch, and not too complicated, which was just what I needed for this time of year.
I am finishing the last row of birds on the bottom, and the "Raysor" part of Elisabeth's signature...and the date.
here is a photo of my progress ....
with our recent wedding, I haven't stitched as much as normal... this was our first wedding in the family and my husband and I are still recovering (from the shock. It feels very odd to have one of your kids get married! where do the years go??? : )
(and, just for something different than the usual stitching photo, here we are with some of our kids...we don't all fit in this picture but you get a general idea of what some of us look like!)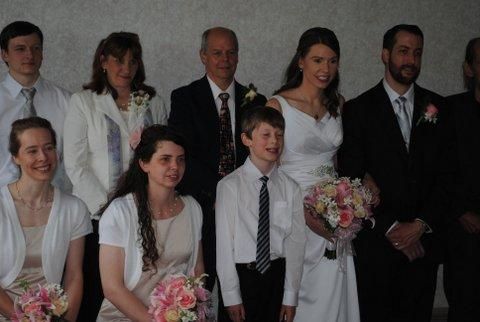 And I've been wondering what my next Scarlet Letter project should be....finally settled on Sary Burditt. Am having fun choosing colors and the fabric!
I hope all of you are enjoying your summer. I know we are! It is so nice to have the change of pace and variety in the seasons....
happy stitching!
Theresa